City Plumbing Services, LLC is your professional plumber company who serves the communities of Cave Creek, Phoenix, Paradise Valley, Chandler, Surprise and most of the East Valley of Arizona. Our plumbing company was built on the foundation of quality over quantity. It's important to us that we not only complete the project you hired us for, but we delivered exceptional customer service while we did it. Call our office at
602-875-4053.
We Charge The Cost We Quoted
We Show Up When We Say We Will
Water Heater Repair & Installations
Our top-rated, insured and licensed plumbers can assist in your electric or gas Hot Water Heater Installation, Replacement, and/or Repair needs, including tank type and tankless gas units.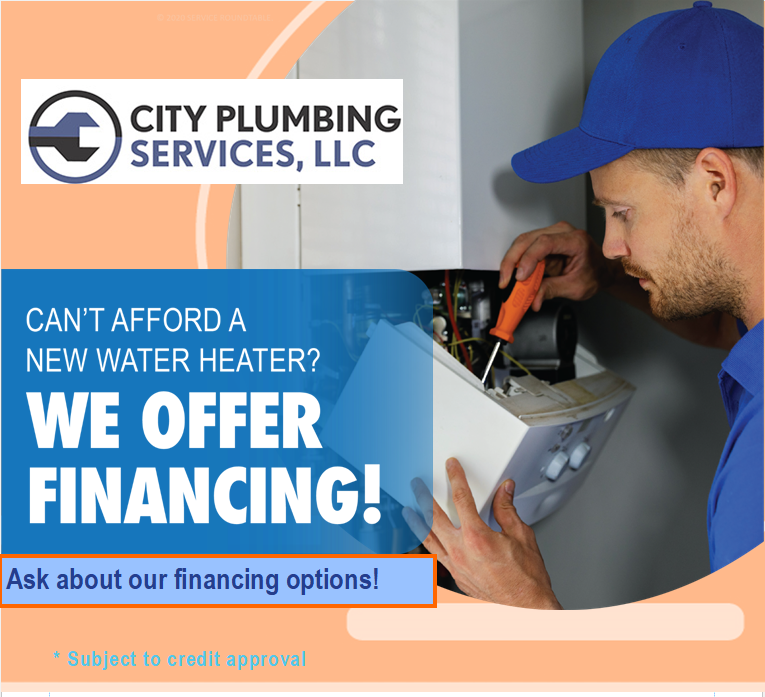 Ask us about our Service Agreements to receive free maintenance inspections on your water heater as well as discounted rates!
My Water Heater Is Leaking. Let our plumbers help troubleshoot that water heater leak! Water Heater Leak Repair is best left to the professionals (like us!). Whether it is a major or minor leak, it can cause a lot of damage to your home as well as spike up your water bill. City Plumbing Services can even replace the entire water heater if needed.
Water Heater Gas Valve Repair. Water Heater Gas Valve problems are difficult to fix and require a professional plumber to address the issue due to the natural gas hazard. In cases like these, replacing it may be your only option.
Water Heater Pilot Won't Light. Did your Water Heater pilot light go out? This will shut off when the water heater unit can no longer sense heat. We offer pilot light repair services to get your pilot light up and running again!
Toilet Repair & Installations
Our expert plumbers in Cave Creek, AZ are specialists in toilet repair and new toilet installation. Our plumbing company will assist in the removal and installation of customer-supplied toilets. We will service the partial or total rebuild of our customers' existing toilets.
When you put your trust in City Plumbing Services, you can expect quality service on:
Clogged Toilet Repairs
Toilet Clogs
Toilet Sealing
Toilet Leaks
Toilet Installations
Wax Ring Replacement
Toilet Flange
Faucet, Fixture, Sink Repair and Installation
Trust City Plumbing Services to repair, install or replace your kitchen and bathroom faucets. Our customers know they can count on us to fix dripping and leaking kitchen and bathroom faucets. We can service a clogged drain prompt-o and get your plumbing functioning the way it should be. Our insured and licensed plumbers can also upgrade your kitchen and bathroom with new faucets and fixtures. Whatever your plumbing needs are, our plumbing company is here for all your bathroom, fixture, faucet and sink plumbing needs.
Sewer Pump & Pump Pit Replacements
City Plumbing services has been involved in the installation of both residential and commercial type pump systems here in Arizona for the past 20 years. If you need a sewage transfer system or a dewatering system for your residence or commercial application, please let us know how we can help. From a simple dewatering pump, to a sewage grinder pump and finally a heavy-duty commercial pump system and manhole for the removal of large amount of sewage or ground water.
We also are here to service or update your existing system and can perform an annual maintenance to ensure longer lasting performance and avoid costly shutdowns.
Reverse Osmosis Installation & Services
City Plumbing Services supplies and installs RO Systems as well as install customer-supplied Reverse Osmosis Systems. We offer one-time maintenance as well as offer Service Agreements to service them on a yearly basis or when needed. It's important to us to make sure you and your family are getting clean drinking water.
Our Water Treatment Technicians can help you with:
Supplying you with a new Reverse Osmosis Drinking Water System
Installing a Reverse Osmosis Drinking Water System you provide us
Service your existing RO System
Troubleshoot issues with your RO System
Water Softener Installation & Maintenance
Our Plumbing Technicians can supply you with residential water conditioners and softeners that are manufactured to our specifications right here in Arizona. We also offer Water Softener Installation for customer-provided water softeners. You can also sign up for regular maintenance of the water softener system.
Our Water Softener Services can help you with:
Supplying you with a new Water Softener System
Installing a Water Softener System you provide us
Service your existing Water Softener System
Water Softener System Maintenance
Testimonials
City Plumbing Services, LLC takes our customers and their plumbing projects they hire us for very seriously. It's important to our company to know you are happy with the work we have accomplished by the time we leave. Please take some time to read our real-customer testimonials below.
Bob and Mark with City Plumbing are excellent. They are professional, knowledgeable, courteous, and punctual. I would use no other plumbing company than City Plumbing. I give them a five star rating. They quote a price and stick to it. They take pride in their work and strive to meet the customer's expectations. Bob is the owner and has many years experience. I highly recommend them.
Bob Bello is the best plumber I have work with in the twenty seven years I have been in business in the commercial and residential construction industry.
Best of the best. Honest, helpful, professional and friendly. Great value and rates!
Great response, highly recommend.
Friendly, on time and even noticed a problem with my water softener.
Excellent service and fair price! I highly recommend City Plumbing Services.
Great service and communication during the entire project!
Nice, experienced, efficient! City Plumbing Services installed as quoted. I highly recommend this company.
I could not be happier. Fantastic work, very personable and professional. Highly recommend and will use in the future for any plumbing needs.
Professional and quick service! Bob communicated well, responded quickly and got all our plumbing needs taken care of faster than expected. I would highly recommend them and plan to use them for all my plumbing needs.
Because of Bob Bello's experience and talent, he was able to take a very challenging plumbing job and make it look easy. He is excellent at his job.
City Plumbing Services is on time, clean, and has excellent workmanship!
GET A QUOTE
We are here for you! Call our office at

(480) 349-3565

or fill out the form and someone from our team will get back to you.